A Casa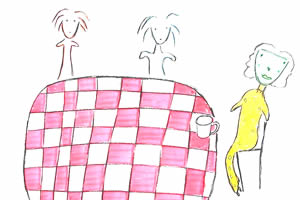 The House
Documentário, 8min
Reino Unido, 2003
Direção: Vivienne Jones
Produção: Maggie Ellis
O filme mostra um grupo de mulheres portadoras de deficiência mental que falam de suas vidas e memórias por meio de desenhos que serão transformados em animações criadas pela diretora Vivienne Jones.
"The House" tells a story of a group of women, with mental disabilities, as they explore their own lives and memories through drawings and the animations the director has created from these artworks.
Prêmios: Winner of Best Short Film, Audience Award, High Falls Film Festival, Rochester, New York, USA, 2003; Winner of A.S.I.F.A. Award for European Animation, L'Alternativa – Barcelona Independent Film Festival, Spain, 2003; Winner of Grand Prize for Best Short Film, Siena Short Film Festival, Italy, 2003; Winner of The Silver Dragon Award, Best Animated Film, Cracow Film Festival, 2004; Honourable Mention for Documentary on a theme of Disability, Picture This Film Festival, Calgary, Canada, 2004.